Get ready for a post about eyebrows, my dears. I know that it's something you're very interested in lately. Specially when beautifully highlighted and thickened eyebrows are the hottest trend in make-up.
---
How do you care for your eyebrows?
Do you know what they need?
Do you use any eyebrow serums to thicken them?
In my case… there were ups and downs. Before I became interested in eyebrow care for good and started to use Nanobrow, I only did eyebrow make-up. Most often I used a brow pencil or a shadow in a similar shade to my hair. With an angled brush, I used to draw lines imitating missing hairs to thicken the eyebrow. Sometimes I even reached for a gel to fix it. And obviously, I plucked unnecessary hairs with the use of tweezers.
It was not until recently that I began to think more broadly about this topic. I realised that make-up should embellish the face, not function as a mask to cover the imperfections. I knew that I have to take care of my eyebrows from the inside, moisturise and nourish them so that they regenerate, grow longer and stronger. If the hairs are healthy, they will also be beautiful.
HOW TO TAKE CARE OF EYEBROWS?
Above all, I insist on delicacy. These tiny hairs can also fall out, brittle, weaken. Most often, it is us who hurt them the most because of invasive make-up removal or strong cleansing agents, for example with alcohol. It is also good to pay attention to the list of ingredients of the cosmetics that we use for make-up – the more natural, the better. Remember that eyebrows (like eyelashes and hair) absorb the ingredients contained in cosmetics. It is good to make sure whatever they absorb is valuable.
WHAT IS GOOD FOR YOUR EYEBROWS?
I would like to focus on eyebrow care cosmetics instead of those for make-up, even though choosing the right eyebrow shadow is also important. They can also contain nutrients.
Regardless of the quality of your make-up cosmetics and those for its removal, you need to also use the eyebrow serum. Why?
Eyebrows need nutrients to grow, shine and have the right thickness. It is impossible to provide all of them in food, hence the necessity of supplying them from outside. I realized that taking care of eyebrows can bring really nice results.
My favourite eyebrow conditioner is Nanobrow. I started using it 4 weeks ago and I already know that it works better than the other conditioners that I had the opportunity (because not the pleasure..) to test.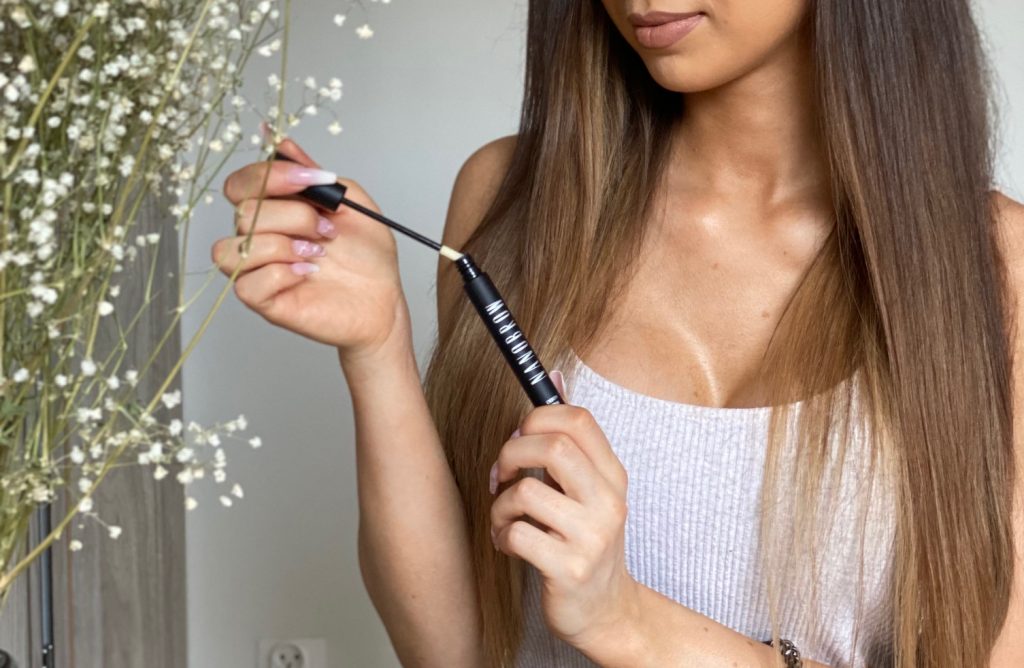 NANOBROW EYEBROW SERUM
It is a cosmetic that you just want to have on your dressing table. The elegant, matt, black tube looks really good, but honestly, I'm much more impressed by the effects of Nanobrow.
How does it work?
It's been my 3rd week with Nanobrow. At the beginning I had thin, sparse and bright brows. Today they are totally different eyebrows! Already after a couple of days, my hairs became more elastic, darker and shiny. Regularly applied, Nanobrow:
darkens,
accelerates growth,
nourishes, moisturises and regenerates,
visibly thickens,
prevents falling out.
What does Nanobrow contain?
All of this is possible due to the right set of ingredients. In the case of Nanobrow, it is composed of natural plant extracts with appropriate nutrients that stimulate growth, moisturise and regenerate.
The complete list of ingredients can be found either on Nanobrow official website or on the leaflet that comes with the brow serum. Let me just give you the most important constituents which deliver comprehensive eyebrow care:
wheat and soy sprout extracts
Baikal skullcap root extract
ginseng root extract
pro-vitamin B5 (panthenol)
arginine, which is a valuable amino acid
and many, many more.
A huge advantage of Nanobrow is that it is devoid of parabens, artificial dyes and flavours as well as any animal-based ingredients (it is cruelty-free).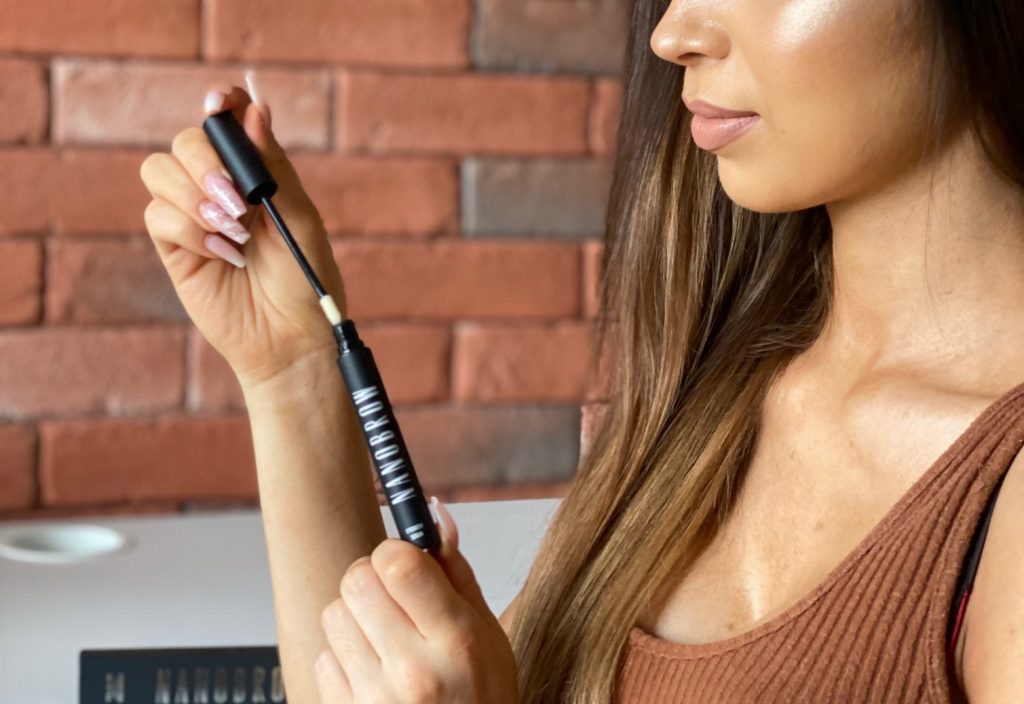 How to use it?
Nanobrow must be used every day. It is not a big problem as I apply it right after removing my make-up. I already got used to this part of my evening care routine.
The application itself is extremely easy with the use of a very comfortable, soft and oblique applicator. But I will not elaborate on it – if you buy this eyebrow serum, you will see how the brush facilitates the application.
Where to buy Nanobrow?
For more information and the price, I advise you to check the official website- nanobrow.co.uk. This is where you order the original Nanobrow.
---