Finding a serum that works out well for redness-prone, sensitive complexions is a challenge. I know that very well because I'd tested several of them before coming across the ideal! Now I want to share results of my tests so you can avoid failures.
A place for face serum in my daily skincare routine:
I wash the face using a mild cleansing gel.
I tone the face using a facial toner or flower water.
I wait until the face dries slightly.
I work a few drops of my serum across the face, neck and chest. Next, I softly massage the skin for better absorption.
Once the serum is soaked up, I follow with a moisturizer.
Key facts on using face serums
There are two popular questions. I hope I'll clear up all doubts you might have.
Can you use serum all year round?
Anti-redness face serums contain only mild and carefully-selected ingredients which work well regardless of the season of the year. They can be used no matter the temperature or intensity of the sunlight.
Can face serum be used twice a day?
Most serums can be used even twice a day. Some products can't but you'll surely find the info on the packaging or official product site.
Read my ranking of items that proved best for my skin.
The Best Anti-Redness Face Serums
1. NANOIL ANTI-REDNESS FACE SERUM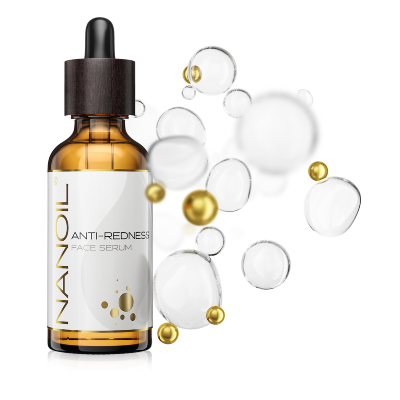 In a nutshell, Nanoil has all I've been looking for: great components, amazing effect, nice texture, big bottle and an attractive price. No exaggeration! Going into detail, this serum proved the most powerful for fighting my redness and spider veins. It made them lighter and less noticeable in a short time. My skin's now more resistant to the outside aggressors and stopped looking flushed all the time. It's due to a buckeye extract in the formula – it seals the blood vessels enhancing them from within. I also love it for instantly relieving the skin, which I think is thanks to extracts from linden and cypress cones. The added Punarnava plant firms up the skin and prevents premature wrinkles. Lots of benefits from one item. Because it comes in a 50-ml bottle I use it twice a day (there's still lots of product left!). It has a light consistency, is easy to apply and sinks in quickly. I simply love to use it. An attractive price is yet another benefit. There's a reason why Nanoil is the first serum I describe in my round-up. It's simply the best for me and my skin. The first place in the ranking is fully deserved.
For more information visit –www.nanoil.co.uk
2. PCA SKIN ANTI-REDNESS SERUM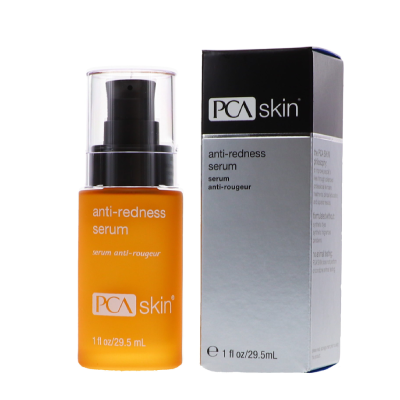 If you're searching for a lightweight formulation which makes a good make-up primer, then I recommend the PCA SKIN ANTI-REDNESS SERUM. It's easy to use, fast-absorbing, and it doesn't leave any marks on the face. The valuable ingredients include extracts from algae and capers, and bisabolol with an anti-inflammatory effect. Moisturizing and nourishing the skin are the major benefits that the serum brings. It also strengthens the complexion so it stops reacting to external conditions as much as it used to. Broken capillaries and blushed cheeks eased which was the effect I wanted most. On the other hand, it takes two pumps for single use and comes in a small bottle, meaning it didn't last me long. Plus, it's pricey. It's actually the most expensive in my round-up but works similarly to cheaper items.
3. DR. JART+ CICAPAIR TIGER GRASS RE.PAIR SERUM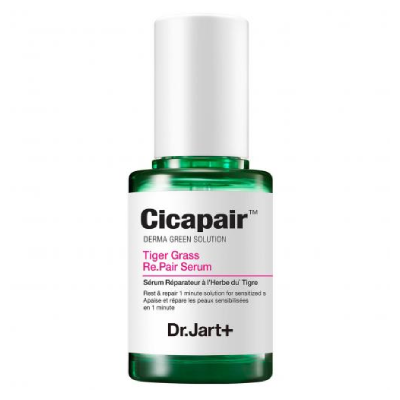 Using this serum means camouflage of spider veins, redness and zits. That's why I like to go for it in the morning and enjoy a lovely-looking face all day. It has a green pigment which hides what needs hiding. Added panthenol keeps the face moisturized while tiger grass extract strengthens the skin and reduces inflammation. Unfortunately, the effects took long to appear, much longer than with Nanoil or PCA Skin. I like to pair it with a cream from the same green range. I guess it works best this way. The price is attractive and you can often find it with a discount.
4. THE ORDINARY ASCORBYL GLUCOSIDE SOLUTION 12%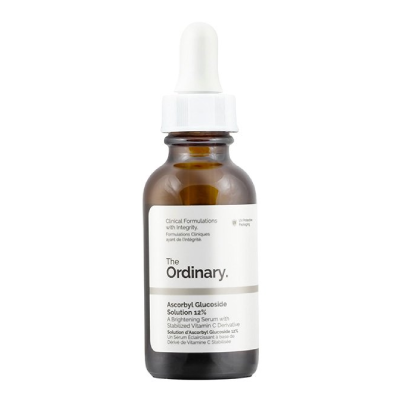 I can't miss the vitamin C serum in my round-up. My skin really likes the THE ORDINARY ASCORBYL GLUCOSIDE SOLUTION 12%. It includes ascorbyl glucoside which didn't cause any irritations despite my skin being so sensitive. The very first application gave me a lovely glow making the face look healthy and fresh. Finally, the spider veins stopped taking centre stage. The product lightens dark spots and evens the skin tone. It isn't an expert for reducing redness or broken capillaries but I like it for other effects. I use it before sleep to make vitamin C work best. I agree with the manufacturer who recommends a patch test. After all, redness-prone, sensitive skin is extremely demanding. I give the product an extra point for a low price.
Leave a comment and let me know if you're familiar with the products. <3